It can be challenging to envision the need for legal assistance when everything in your life is going smoothly. Many individuals assume that unless they have violated the law, are involved in a lawsuit, or going through a separation, there is no reason to consult a lawyer. However, it is highly advisable to develop the habit of seeking advice from a lawyer even when things are going well.
For instance, are you expecting a new addition to your family? It is essential to review your will, specifically considering a guardianship clause. Planning to purchase a home? Your lawyer will handle the closing process. Similarly, when buying or expanding a business, involving a lawyer is crucial.
During good times, a lawyer should be a trusted member of your advisory team, ensuring the protection of you and your family when you encounter challenges along the way.
At Racine Law, our priority is your well-being and that of your family. We understand that each situation, individual, and family is distinct and should be treated accordingly. At Racine Law, you are not merely a client; you are a friend. We will not rush you through like a number, and you will not be left waiting for hours in a waiting room. Our mission is to deliver exceptional service at a reasonable cost.
Appointment Options
At Racine Law, one of our priorities is accessibility and convenience for our clients. Whether you prefer in-person interaction, the convenience of virtual appointments, or the simplicity of a phone call, we've got you covered. Our team is well-versed in adapting to your preferred method of communication to ensure the process is as convenient and efficient as possible.

Real Estate
The Real Estate team, at Racine Law possesses a wealth of knowledge and expertise in a wide range of Property transactions. From facilitating seamless sales and purchases to providing invaluable guidance on mortgages and refinances, we offer comprehensive support throughout the entire process.
In addition to Residential Real Estate, our team completes Commercial Real Estate transactions for our business and Landlord clients and we represent private lenders in securing mortgages for both residential and commercial properties.
Estate Administration
When an individual passes away, the responsibility of settling their estate often falls upon the estate trustee. Estate administration entails the tasks of gathering and managing the deceased person's assets, settling outstanding debts and taxes, and distributing the remaining property to the beneficiaries specified in the individual's Will. We have found recently an increase in family members requiring our assistance as there is no Will and special forms must be completed and provided to the court, banks and the land registrar so the family may administer the estate. As an executor, this may be your first or second experience handling such matters, here at Racine Law our experience is an asset to many of our clients.
At Racine Law, we understand the challenges and stress that can accompany this process, and we are here to provide guidance and support during this difficult time in your life. We strongly recommend engaging the services of a lawyer to obtain a Certificate of Appointment of Estate Trustee, previously known as 'Probate'. Furthermore, there are instances where executors may need to account for their actions, and we can assist you in completing the necessary court forms and navigate the process as your representative.


Wills & Powers of Attorney
A Last Will and Testament is a legally binding document that outlines an individual's preferences for the distribution of their possessions and property after their death. At Racine Law, we provide a comprehensive service where we gather instructions from you regarding the appointment of trustee(s), specific distributions preferences, and the identification of your desired trustee(s).
This document holds significant importance at any stage of your life and should be regularly reviewed, especially when you undergo major life changes such as purchasing a house, starting a family, or experiencing a separation or divorce. By consistently reviewing and updating this document, you ensure that your wishes remain current, providing your family with peace of mind in the event of any unforeseen circumstances.
Similarly, a Power of Attorney serves as a written authorization that grants someone the ability to represent or act on your behalf in personal, business, or legal matters. By establishing Power of Attorney documents, you can rest assured that in the event of your incapacitation; your wishes will be faithfully carried out by a trusted individual.
Land Use
At Racine Law, we understand the importance of being well-informed about the potential restrictions that may exist on your land before making the purchase. We offer comprehensive assistance in reviewing zoning or unforeseen limitations associated with your property. We also offer review of Land Use Change Applications and once a Planning decision is made undertaking the work to fulfill the requirements outlined by the Planning Authority. Our experienced team is dedicated to assisting you in navigating the intricate landscape of land restrictions, ensuring that you can make informed decisions and overcome any challenges that may arise.
Our range of expertise extends to encompass severances, easements, and the intricate aspects of Real Estate Law. Additionally, given the significant number of properties in Northumberland County that still remain in the old registry system due to conversion challenges; we take pride in our ability to navigate the complexities associated with this particular area of law.


Business & Corporate Law
Whether you are in the process of establishing, acquiring, or managing a business, having the guidance of a lawyer is invaluable. With their expertise, you can effectively navigate the complex landscape of provincial and federal regulations, allowing you to focus on the core operations of your business. At Racine Law, we provide advisory service to our clients regarding various business structure options. Working in conjunction with your tax advisor, we assist in setting up the most efficient structure tailored to your specific needs.
In addition to business setup as legal professionals, we excel in the art of contract drafting. Whether it's Commercial Leases, Purchase and Sale Agreements, Shareholder Agreements, or any other type of contract, we have the knowledge and experience to deliver exceptional results.
Furthermore, we offer comprehensive services that extend beyond the initial setup. We can assist in updating your minute book on an annual basis, facilitate federal and provincial incorporations, and skillfully draft essential documents such as shareholder purchase agreements. With our support, you can confidently navigate the process of building and expanding your business.
At Racine Law, our experienced team possesses extensive knowledge in corporate and commercial transactions. Whether you are a budding startup or a well-established business, we have the expertise necessary to guide you through a diverse range of transactions. Our primary objective is to execute your transaction efficiently with a comprehensive grasp pf your business objectives. We take pride in offering practical and strategic advice that empowers you to make informed decisions while mitigating potential risks.
Rest assured that at Racine Law, your legal matters are in capable hands. We are dedicated to providing you with the highest level of service and ensuring the success and protection of your business interests.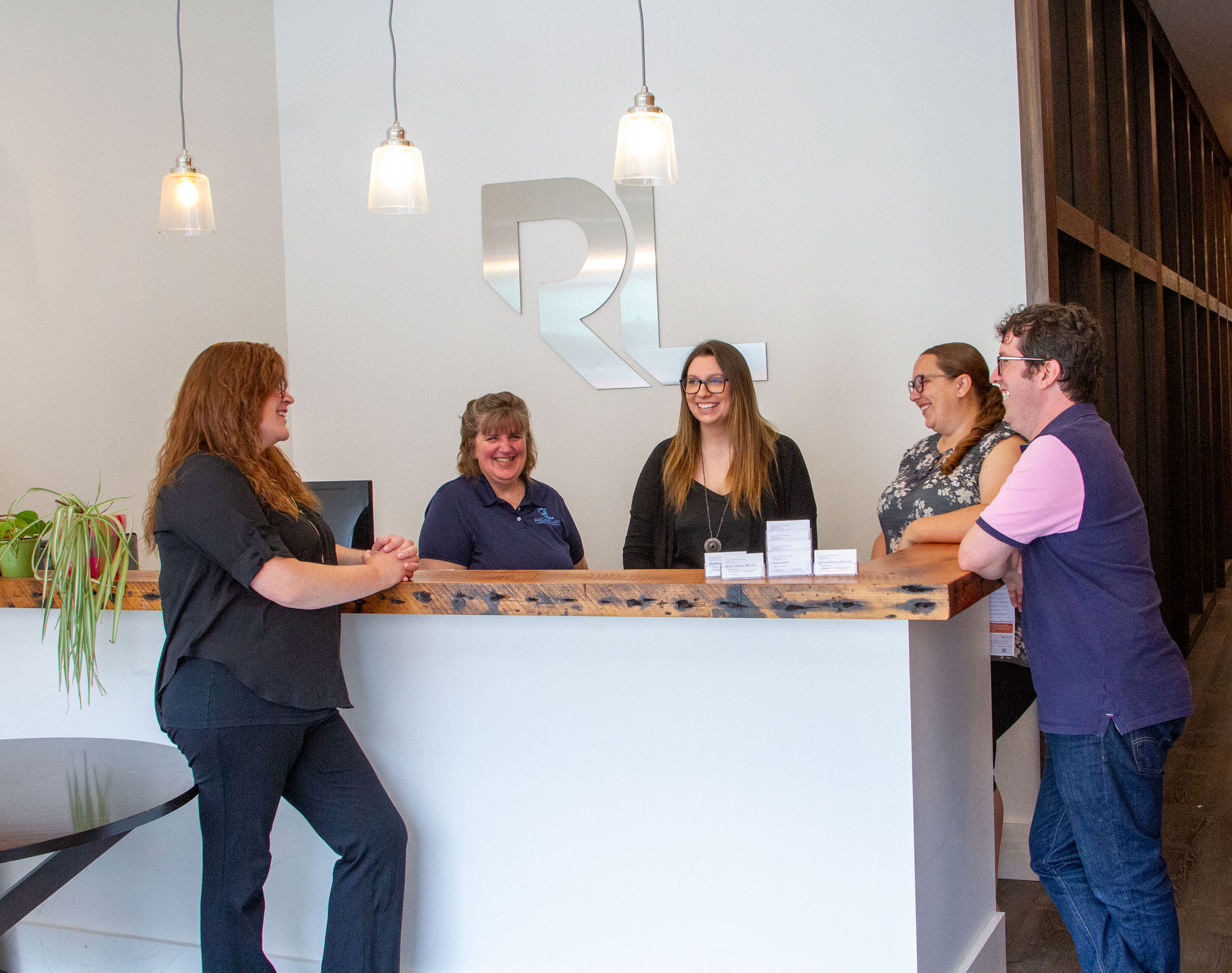 Meet the Team
Teamwork is at the very heart of our approach. We know our ability to meet your objectives hinge on everyone's full cooperation. This is why we leverage not only just the skills of our lawyers and support staff, but also their versatility.
Working together, we can plan and see through what matters most to you.